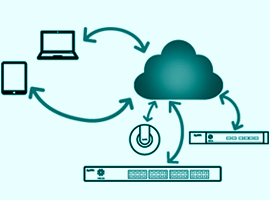 The Competitive Advantage is Written in the Cloud
Of all the current trends affecting the global IT market, few have been as influential and far reaching as the move to the cloud. Industry experts see no end in sight for the exponential growth of cloud traffic over the coming years. This point was driven home recently with the release of Cisco's Global Cloud Index. Covering a five-year period, the index reports that cloud traffic will increase 3.7 fold from 3.9 zettabytes in 2015 to 14.1ZB annually by 2020.
Why is all this traffic expected to move to the cloud? The foremost factor is a transition to cloud architectures, driven by their ability to scale quickly and with increased efficiency. This allows them to support heavier workloads than data centers have been able to manage in the past. The demand for efficiency continues to grow as workloads increase, and from not just for business users, but consumers as well. Consumer demand in particular has been driven to a large degree by applications like video streaming and social networking.
Adapt or Get Left Behind
With the writing on the wall, most experts agree that businesses choosing not move to the cloud will be left behind, unable to compete.
Gartner predicts that in the near future so-called "no-cloud" policies will become as rare as "no-Internet" stances are today. They also forecast that more than 30 percent of the world's 100 largest vendors are expected to shift their software investment policies from "cloud-first" to "cloud-only" by 2019.
While the cloud itself may be difficult to grasp by average users, its overall impact on the IT market cannot be overstated. Some would argue that it is one of the most important and influential developments within the tech industry since the advent of the Internet. And like the latter, it is seen as an equalizer, putting safe, efficient and powerful tools into the hands of the average user.
Unlock the Cloud's Potential with Zyxel Nebula
Zyxel's Nebula cloud networking solution is just such a tool, allowing users to centrally manage compatible wired and wireless devices. By giving businesses a true plug-and-play operating experience, they will be able to enjoy all the benefits of the cloud, which translates to greater overall efficiency and competitiveness.
Combining remote setup, maintenance, and troubleshooting, Nebula increases productivity while offering greater flexibility. Frequently, businesses with multiple branches face complex networking challenges when it comes to linking satellite offices to a headquarters. Such arrangements require the support of a large IT staff to keep networks up and running — an expensive proposition for most and out of the reach of many small enterprises. Now, even smaller businesses can enjoy the advantage of a centrally managed business network with less overhead, fewer downtime headaches, and the ability to reach more customers.
Most of today's successful businesses have taken the first step of putting their software applications in the cloud. Hardware is the next natural step. The Nebula app makes it easy to add new devices. A single, simple interface allows management from any desktop screen or mobile device. Finally, Nebula's one-size-fits-all model opens a world of growth possibilities to operations of every scope — unlocking the unlimited potential of the cloud.