4 Cybersecurity Trends in 2018
2017 was a tough year for businesses battling security threats. Cybercriminals showed no sign of curtailing their nefarious efforts as they launched progressively sophisticated attempts to access systems, lock down data, and force individuals and institutions to do their bidding. In this increasingly dangerous and rapidly changing environment, here are some things you should be doing throughout 2018 to stay one step ahead of these threats.
Zero-trust Security
If there is a theme to how IT experts plan to approach security threats in 2018, it is "trust no one." The statistics speak for themselves: ransomware attacks are up 300% in the U.S over the last three years and the criminals have raked in more than $1 billion in profits since 2016.1 The BYOD trend may be creating the ideal environment for these security threats to flourish. "Zero trust security" calls for requiring users to have explicit permission to access network resources. New technology, including cloud-based systems, will help network administrators avoid data bottlenecks, keeping verification and authentication simple and speedy.
4.3 times more new ransomware variants in Q1 2017 over Q1 20162

Embrace the Cloud
Cloud services have matured considerably in recent years. The growth of platform as a service (PaaS) has opened the door to an array services and solutions for business users. 2018 promises a revolution in security options as IT professionals turn to the cloud for high-performance strategies to protect networks and data from new threats. The hybrid cloud offers the added advantage of flexibility with its blend of on-premises resources, private cloud, and public cloud services. Nearly 91 percent of IT professionals say this strategy will offer organizations more data deployment options along with increased protection.3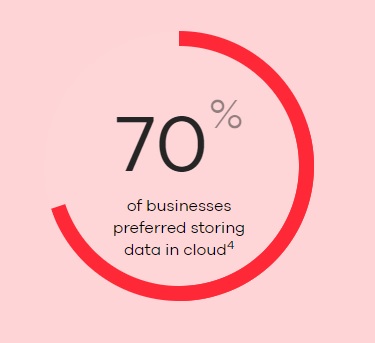 Protecting Internet of Things (IoT)
The era of ubiquitous connectivity has given us a world where nearly everything we own can connect to the Internet. IT research firm Gartner warns that throughout 2018, more than half of all IoT manufactures will fail to address serious security threats stemming from weak authentication practices. Companies looking to avoid such pitfalls must confront authentication risks and take on the challenge of identity assurance. To reduce costs stemming from these threats, businesses should establish new security metrics, increasing the level of protection.
Going on the Offensive
In 2018, an increasing number of security companies will take the fight to the enemy, actively tracking down cybercriminals. Expect new advances in artificial intelligence and more powerful security solutions to further level the playing field, allowing security systems to more accurately monitor suspicious behavior on networks. With these advances, 2018 could be the year we turn the tables on cybercriminals.