Small Cell Solution
/ 27 سپتامبر 15

Introduction to Small Cell
The evolution of mobile networks propels the Small Cell technology to derive from the hierarchical networking architecture. A Small Cell device installed in home, so-called Small Cell CPE (Customer Premise Equipment) can work as hot spot under macro cells to enhance capacity or coverage. Small Cell CPE is the good solution, particularly for out-of-coverage areas.
Small Cell Technology
The huge potential deployment quantity of Small Cell will have to meet scalability requirements for mobile core networks originally designed for much smaller scales of Macro Cell BTS. To solve this issue, the RNC feature is built into the Small Cell with a gateway to interface with the core network. Based on the TR-069 framework, the Small Cell management system is used for auto provisioning similar to the mechanism for huge-scale xDSL CPE deployments in fixed applications.
Small Cell CPEs can be deployed in remote areas such as residential or public spaces close to the subscribers to maximize the technical advantage. Small Cell Gateways and Management systems that are normally located at central offices can be placed within the Core Network. The Small Cell Gateways are activated for network homologation and they make the Core Network transparent to the deployed Small Cell CPEs. With the Small Cell Gateways, networks are able to perform handover between Macro base station and Small Cell CPE, as well as among Small Cell CPEs.
Small Cell CPEs are normally installed by end users and it requires Plug-and-Play features, different from Macro BTS that are normally installed after precise, detailed network planning to avoid inter-cell interference. In terms of Plug-and-Play features, the Small Cell CPE has the SON (Self Optimization Network) function built-in; with which Small Cell CPEs will keep the optimal network setting even if the network environment is changed.
A typical Small Cell network architecture is shown as below:
Advantages
Advantages of Deploying Small Cell CPEs at home
The popularity of mobile devices has increased exponentially in the last few years. According to a recent GSMA report, there were 3.6 billion unique mobile subscribers worldwide at the end of 2014, meaning half the world's population has a mobile subscription. At the current rate of growth for subscriber population and data usage, mobile traffic is expected to increase tenfold by 2019.
To fulfill this demand, the mobile operators are seeking to a strategy to effectively increase data capacity; meanwhile, the difficulty of acquiring new sites for Macro base station in metro zones also drives mobile operators to find an innovative solution to enhance the coverage by adding less Macro base stations.
Deploying Small Cell CPEs in households can be the answers because it can provide two key advantages to mobile operators to solve the bandwidth and coverage issues.
Establish Cell Coverage within households

Typically, the propagation loss or penetration loss of mobile signals significantly reduces the speed of mobile broadband access, especially while users are located indoor or near the edge of Marco cell coverage. Based on the related studies, about 50% of the subscribers often have lower link speed or lower-than-average signal quality from the Macro Cell while they are home. Small Cell CPE can easily establish one Small Cell around the home to boost the connection locally, so that the subscriber can connect through it and enjoy better services.
Furthermore, if the subscribers live in metro area, Small Cell CPEs also prevents subscribers from service impacts resulted by high density of roaming users in the neighborhood, or severe bandwidth congestion by small group of heavy bandwidth consumers.
Leverage existing in-home broadband services
Fast growing OTT (Over-The-Top) applications, such as social media and video streaming, eventually cause heavy network investment for base stations and bandwidth usage, but provides with little revenues return. Since Small Cell CPEs are designed to handle mobile traffic over IP packets, it can be simply connected with any broadband devices, such as DSL or Cable modem and pass through the traffic to Small Cell Gateway located in central office. Namely, mobile operators don't need to build many new sites for Marco base station or backbone to connect each Small Cell, but simply leverage existing in-home broadband service, which is least expensive with almost unlimited bandwidth. Besides, mobile operators can leverage Small Cell CPEs as the best entry to home networks to create value-added services for home users for increased ARPU.
The ZyXEL Solution
As the leading complete network solution provider, ZyXEL has introduced Small Cell CPEs to meet all our customers' needs. Through collaboration with Alcatel-Lucent (ALU), ZyXEL UMTS Small Cell CPEs (FMT3211/ FMT3251) are field-proven to enhance mobile data and voice transmissions with optimal efficiency. As mobile broadband evolves to 4G/LTE, the ZyXEL LMT3313 was launched to offload the busy LTE macro network with a convenient plug-and-play design for rapid deployment.
In order to avoid over-complicated network planning, the ZyXEL Small Cell CPEs can be easily deployed via the SON (Self Optimized Network) technology. As an extension of mobile signal coverage, the ZyXEL Small Cell CPEs offer crystal-clear voice quality as well as reliable data connection to the Internet. With smaller cell sizes of typically 15 to 20 meters, ZyXEL's Small Cell CPEs provide good signal coverage through low RF output power of typically 20 mW(FMT3211 / FMT3251) and 250mW(LMT3313). This significantly reduces the RF output from mobile devices to extend battery life.
With the tunneling technology, the ZyXEL Small Cell CPEs use the existing broadband link as a backhaul to connect to operators' 3G/4G Core Networks to significantly reduce the CAPEX and OPEX.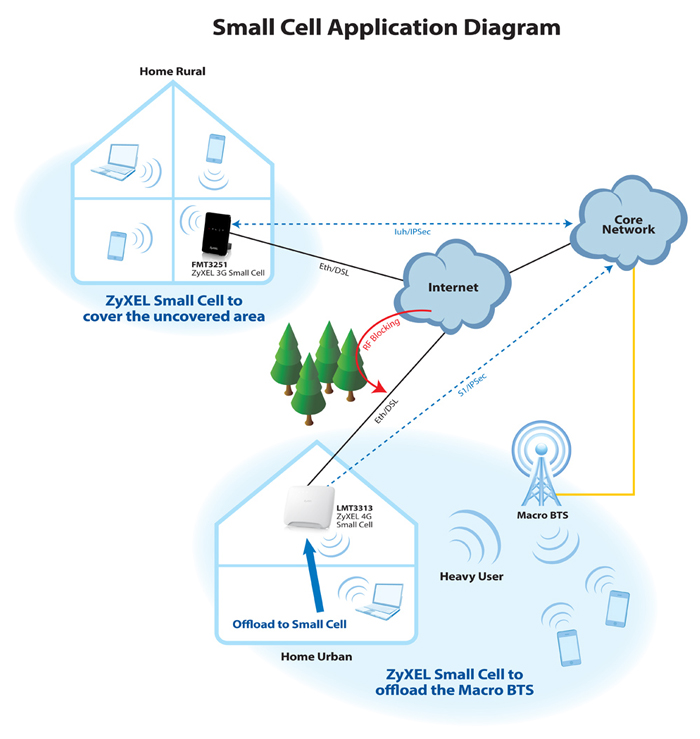 Enlarge
As depicted in the above figure, the ZyXEL Small Cell CPEs are installed in areas that are not properly covered by Marco Cells or Marco Cells are already overloaded. As described in the figure, buildings and terrains could also block the RF signals.
The application scenario of the ZyXEL Small Cell CPEs is shown below.
Summary
The ZyXEL Small Cell CPEs are the right answer to offload mobile traffic and increase mobile cell coverage.
Easy Installation, Plug-and-Play

The ZyXEL Small Cell CPEs can leverage the existing broadband connection via Ethernet interface, and subscribers can easily install them like installing a typical CPE. Once installed properly, the ZyXEL Small Cell CPEs can optimize the Small Cell services continuously and automatically aligned with Service Gateway in the central office.
Low RF Power with optimal signal
Low RF radiation power of the ZyXEL Small Cell CPEs can significantly ease the subscriber concerns since the ZyXEL Small Cell CPEs provide the best balance between good signals and low radiation.
Stylish Design, Small Form Factor

The small form factor, embedded antenna and stylish design of the ZyXEL Small Cell CPEs could be easily blended into the living spaces and reduce the stress brought by conventional access points with visible antennas.
Interoperable with ALU Small Cell Solution

Powered by ALU's leading Small Cell technology, ZyXEL's UMTS Small Cell CPEs can be interoperable with ALU's Small Cell solution, which widely used by leading mobile operators worldwide, and reduce the mobile operator's headaches of verification and support efforts.